Press Statement by Moscow Platform
Press Statement
Moscow Platform
Representatives of the Moscow Platform for the Syrian Opposition in the Syrian Negotiation Commission (SNC) - Alaa Arafat, Youssef Salman, Sami Betinjane, Mohannad Dlykan - are heading to attend the SNC's next meeting on 2-3-4 June, in Geneva. This comes after an over 3.5 year interruption in the Platform's participation in any SNC activity, as a result of several pending controversial issues, especially since an arbitrary and illegal decision was taken against the Platform. The decision was to revoke the membership of one of the Platform's representatives in the SNC and its representative to the Syrian Constitutional Committee's Small Group, Mohannad Dlykan, after calling for transferring the Constitutional Committee's work to Damascus while securing the necessary guarantees for that, a position the Platform continues to see as the correct one and continues to demand it.
The Platform's return to attending the SNC's meeting comes after several initiatives by components of the SNC, which resulted in restoring the membership of our representative in both the SNC and the Constitutional Committee. The Platform's return also comes within its endeavor to work at all levels and, where necessary, to push for a comprehensive political solution based on UNSC Resolution 2254, within international and regional circumstances in which the chances of the actual implementation of the solution are steadily rising, with the decline of Western and American influence in particular - globally and in our region - as well as with the progress of the Astana track and the high level of consensus between it and key Arab countries, in whose interest is reaching real stability in Syria.
While the Platform maintains, as always, its complete political independence, it expresses its sincere desire to activate the work of the SNC in a way that serves the political solution in accordance with UNSC Resolution 2254. The main principle that will determine whether or not the SNC succeeds in this task is adherence to political consensus as the working mechanism within the SNC, which means moving away from adopting the policy of a specific party or component, ending any exclusivity or exclusion, and adhering to the specific functional role of the SNC as a side whose task is negotiating.
Moscow Platform of the Syrian Opposition
Damascus, 1 June 2023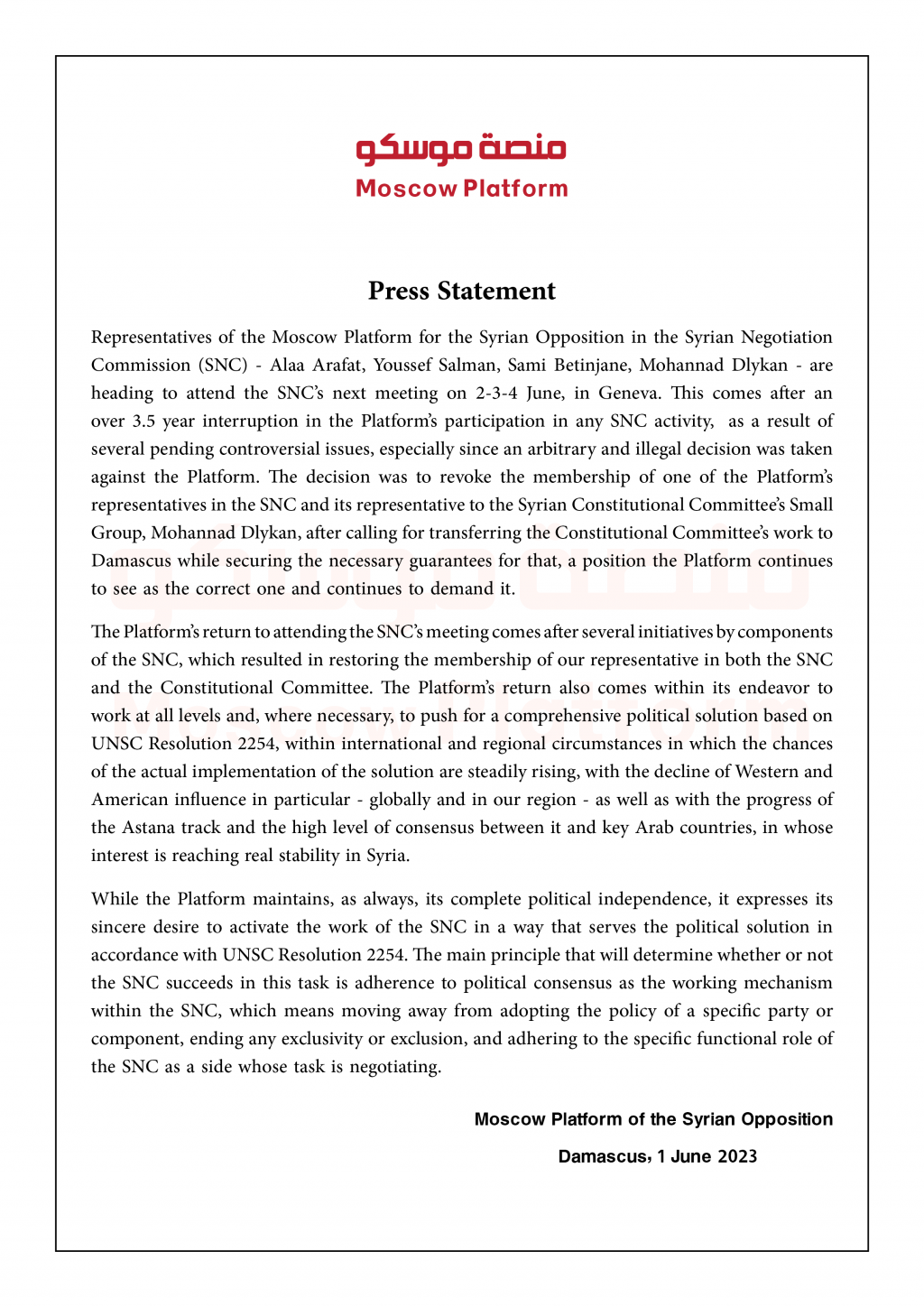 Last modified on Thursday, 01 June 2023 17:20