Only A Quarter of Government Spending is Left for Education
Like other Syrian fields of activity, the sector of education with its two sides – education and higher education – has deteriorated rapidly throughout the years of the crisis. Apart from occasions' slogans about the importance of the education sector in the country, figures reveal a disastrous decline at all levels in this sector, including government spending on it, which kept rapidly shrinking and reducing until we reached a point where the government (discretionary) spending on the education sector in 2021 has not even reached a quarter of what it used to be in 2010. 
During the past year, the education sector continued to decline significantly, and that was due to several factors. The most important of which was the economic situation, which has forced a large number of children to drop out of school and go to the labor market to cover the huge difference between wages and the minimum living costs of the family in Syria.
The Most Affected Governorates
In this regard, the data of the United Nations reveal that 18% of Syrian children dropped out of school, and half of these children have never attended school. In figures, the rates of children who dropped out of school have reached a large proportion in al-Raqqa (35%), al-Hasaka (30%), Idlib (28%), Aleppo (26%), and Deir ez-Zur (25%). More than quarter of families with school-age children indicated that their children dropped out of school because there was no school to which they can send their children.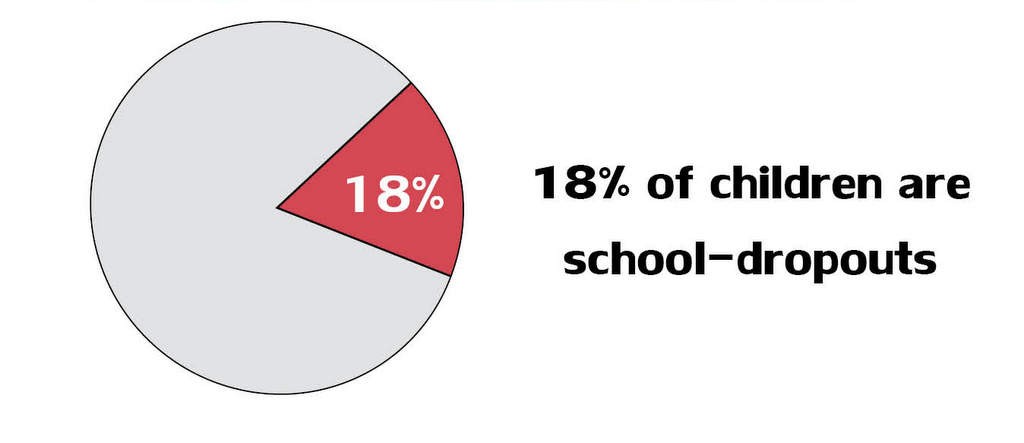 The Paradoxes of Formal Education
According to the estimates of UN organizations, formal education system in Syria is incapable of accommodating and keeping all school-age children, as many students continue to learn in unfavorable and unsafe educational environments. There is an average of one classroom for every 54 school-age children, besides, the proportions in some governorates are astonishing. For example, in Idlib (one classroom for every 178 students), in Damascus (one classroom for every 101 students, and in rural Damascus (one classroom for every 94 students).
To "solve" this problem, some governorates work through a system of morning and evening teaching shifts, and in some regions in Idlib, for example, three or four shifts a day are carried out in order to overcome overcrowding. Many children attending school are still suffering from the reduction of necessary and required learning time due to the prevailing system of several shifts, as well as suspensions due to the continued spread of COVID-19 in some regions.
In addition, children are suffering from long distances between their homes and their schools. Governorates that have the highest rates of student mobility (more than 20 minutes between home and school) are: Damascus and rural Damascus (49%), Deir ez-Zur (38%), and Idlib (27%).  
The Figures of Government Spending: One Decline After Another
In its general budget of 2021, the government has allocated a discretionary spending of approximately 516 billion Syrian pounds for the services of education. As usual, the figurers of discretionary spending which the government continues to talk about their increase in the Syrian pound, show how much they are dwindling once calculated in dollars. Looking at the figures of discretionary spending that "increased" from 85,6 billion SP in 2010, to 150,6 billion SP in 2015, then to 516 billion in the budget of 2021, it is easy to come out with the conclusion that discretionary spending has actually increased. However, these same figures have rapidly decreased from $ 1,7 billion in 2010, to $ 669 million in 2015, to just $ 411 million in 2021, and that is according to the exchange rate in the Central Bank of Syria.  
In this sense, it can be concluded that the share of education and higher education from the government's discretionary spending does not exceed 24% of the same share in the budget of 2010. In other words, more than three-quarters of government spending on education (75.9%) has been removed in 11 years.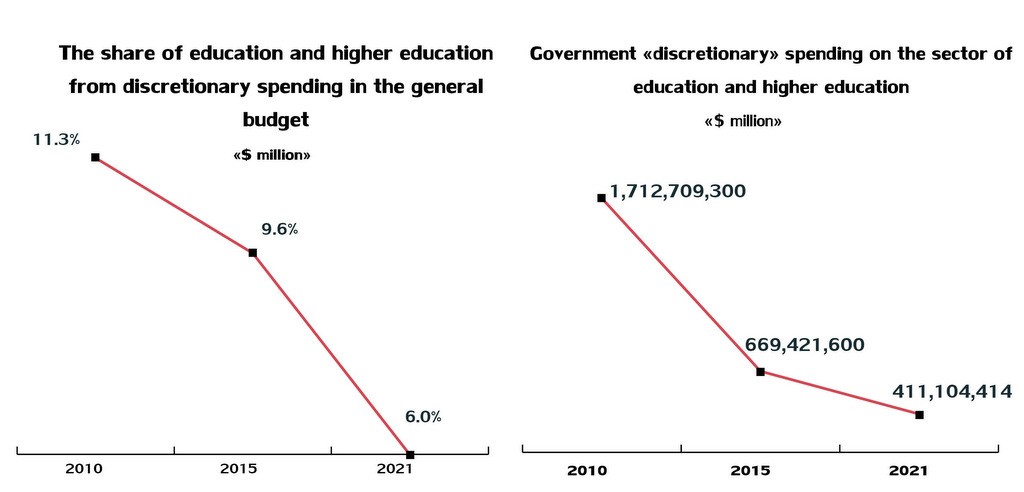 Only 6%: The Share of Education in the Budget
The budget of education, both in education and higher education, constitutes no more than 6% of the general budget of 2021. It is an exceptional proportion if compared to previous years, as it constituted 9.6% of 2015 budget, and 11,3% of 2010 budget. Also, this proportion is not only considered exceptional compared to previous years, but also if we look at the global average, that indicates that governments around the world allocate an average of approximately 14% of their budgets to spend on the sector of education.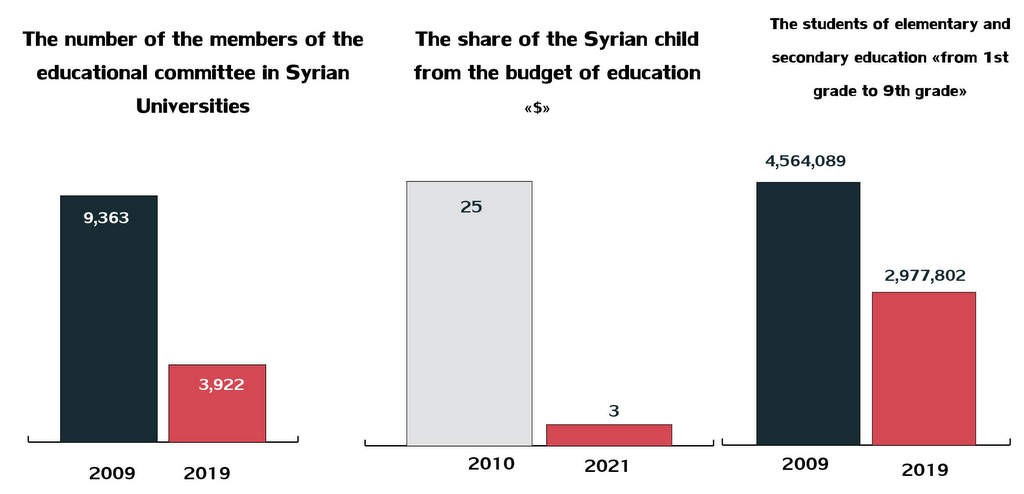 6.6 Million Syrian Children are in Need of Assistance
The figures of the United Nations estimate that nearly 6.6 million Syrian children need assistance in terms of education; 3.1 million of them are female (47%), while 3.5 million are male (53%). Of the 6.6 million Syrian children in need of educational assistance, the United Nations confirm that 54% of them are in dire need, and 42% are dramatically in dire need, while the situation of 4% of them is considered disastrous.

From $25 to $3 Per Child Monthly
According to the budget of 2021, discretionary spending on the sector of education will nearly reach 298 billion Syrian pounds (298,857,040,000), while the number of Syrian children between the age of 5-18 years old is about 6.4 million children. That is, the share of the Syrian child in the budget of education is 46,696 Syrian pounds annually, i.e., approximately 3,891 SP per month; $3 per month. This represents a sharp decline, as the share of one child in the budget of 2019 was approximately $10 a month, which also represented back then a decline from the same share in the budget of 2010, where it reached $25 a month.
Last modified on Friday, 15 April 2022 15:34