Statement by People's Will Party Solidarity with the Palestinian People and their Resistance
For the second day in a row, the Zionist enemy continues its aggressive bombing of the Gaza Strip, as well as the terrorizing attacks in multiple areas of the occupied Palestinian territories.
At the same time, the uprising of the Palestinian people, which started within Jerusalem from Bab al-Amoud and Sheikh Jarrah neighborhood, has extended to encompass large areas of the Palestinian territories. This uprising may rapidly develop into a comprehensive uprising that bears from the outset the features of an unprecedented historical act:
This is the first time that the enemy has been forced to declare a state of emergency in Lod since 1966.
This is the first time that all forms of the Palestinian resistance struggle have met in such an intense and simultaneous manner including: demonstrations, sit-ins, large public rallies and celebrations, intense media work that this time is using social media to a greater extent, and sporadic clashes with the enemy in many parts of the Palestinian territories, as well as military action.
This is the first time the Palestinian resistance's missiles crush Tel Aviv and reaching several other areas within the territories occupied since 1948; if the resistance's missiles had previously destroyed the Iron Dome myth, this time they have dragged it through the mud.
This is the first time the Palestinian resistance has used drones.
The broad scale, diversity, and complexity of the range of resistance work, afflicting the Zionist in a state of paralysis and powerlessness. This coincides with an international situation in which the Zionist entity sees itself increasingly isolated.
The ongoing uprising of the Palestinian people, and as it comes after a series of disgraceful normalization agreements by several Arab regimes, which some other regimes continue to discuss covertly and under the auspices of the US, this uprising is dragging everyone through the mud and proving they will inevitably be gone.
We, in the People's Will Party, declare our full solidarity with the great Palestinian people and their heroic resistance, and affirm that the Palestinian victory will have a completely different flavor this time, and will be a real beginning within the new world about which we have repeatedly spoken for more than a decade, a post-Western dominance world, the dominance that was essential in the creation of the Zionist entity and was its main supporter throughout.
We Salute Palestine
We Salute the Palestinian People and their Resisting Factions
People's Will Party
Damascus, 12 May 2021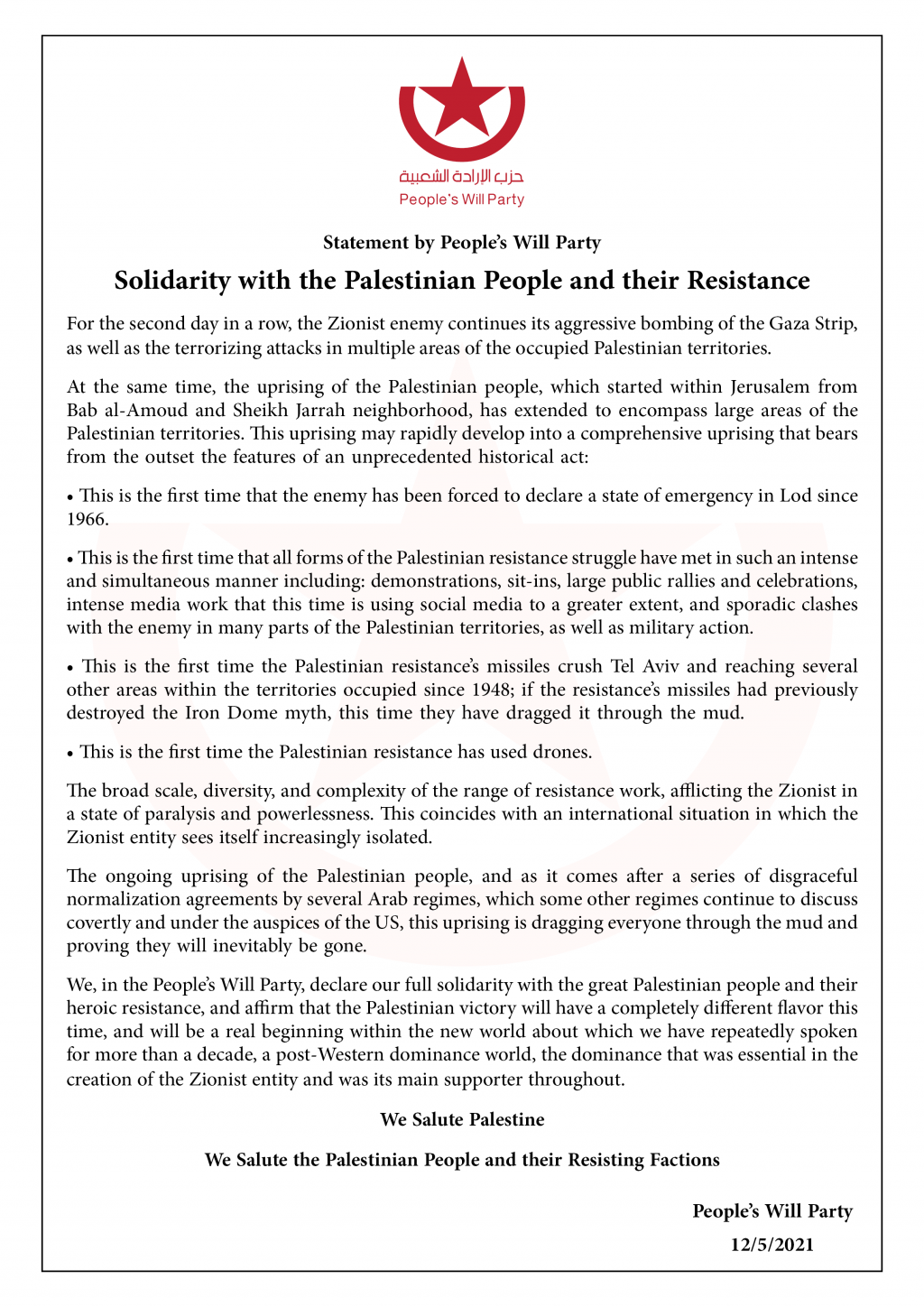 Last modified on Wednesday, 12 May 2021 13:19