Joint Press Release on Syria's Return to the Arab League
The undersigned patriotic democratic Syrian opposition forces believe that the decision of the Arab foreign ministers for Syria's return to its Arab surroundings, and resume its participation in the Arab League institutions, comes in the context of the return of an Arab role with a positive outcome within the Syrian file, in a way that serves the aspirations of the Syrian people, and preserves Syria's sovereignty and independence.
The signatories affirm that solving the Syrian crisis requires achieving political transition through the implementation of UNSC Resolution 2254, which stipulates a Syrian-led Syrian-owned political process, and that it is of great importance that the joint Arab action play a positive role in pushing towards that.
Syria, which has suffered throughout a 12-year-long crisis, should turn the page on the painful past and see a process of radical and comprehensive change, in which Syrians choose a political system that represents them and what they want. This is an internal matter requiring serious national dialogue in which all Syrians participate, without excluding or marginalizing anyone.
The undersigned patriotic democratic opposition forces believe that Arab support for the Syrian state and the Syrian people is the awaited position, with which the Syrian patriotic forces must seek to engage positively. Additionally, there should be positive engagement with the efforts of the Astana group that seek to achieve a Syrian-Turkish settlement. The aforementioned forces see that merging the Arab and Astana efforts has become an urgent necessity to provide all the necessary conditions for an actual start of the solution.
While the signatories welcome the Arab efforts, especially the position of the Kingdom of Saudi Arabia, the chair of the upcoming Arab League summit, they caution against attempts by extremists from all Syrian sides to work on obstructing the implementation of the required steps, including those in the final communique of the Arab foreign ministers' meeting, to reach a comprehensive and final solution to the crisis.
Sunday, 7 May 2023
Signatories
Kadri Jamil – People's Will Party
Obeida Nahas – National Renewal Movement
Fahd Hasan – Peaceful Change Path Movement
Abbas Habib – National Democratic Rally
Sami Betinjane – Third Current for Syria
Ahikar Isa – Mother Syria Youth Congregation
Yusuf Salman – Democratic Social Party (under establishment)
Khaled al-Mahamid – Former VP of the Syrian Negotiation Commission
Hasan al-Atrash, Member of The National Initiative in Jabal al-Arab
Mohammad Al-Shaker – Arab Democratic Rally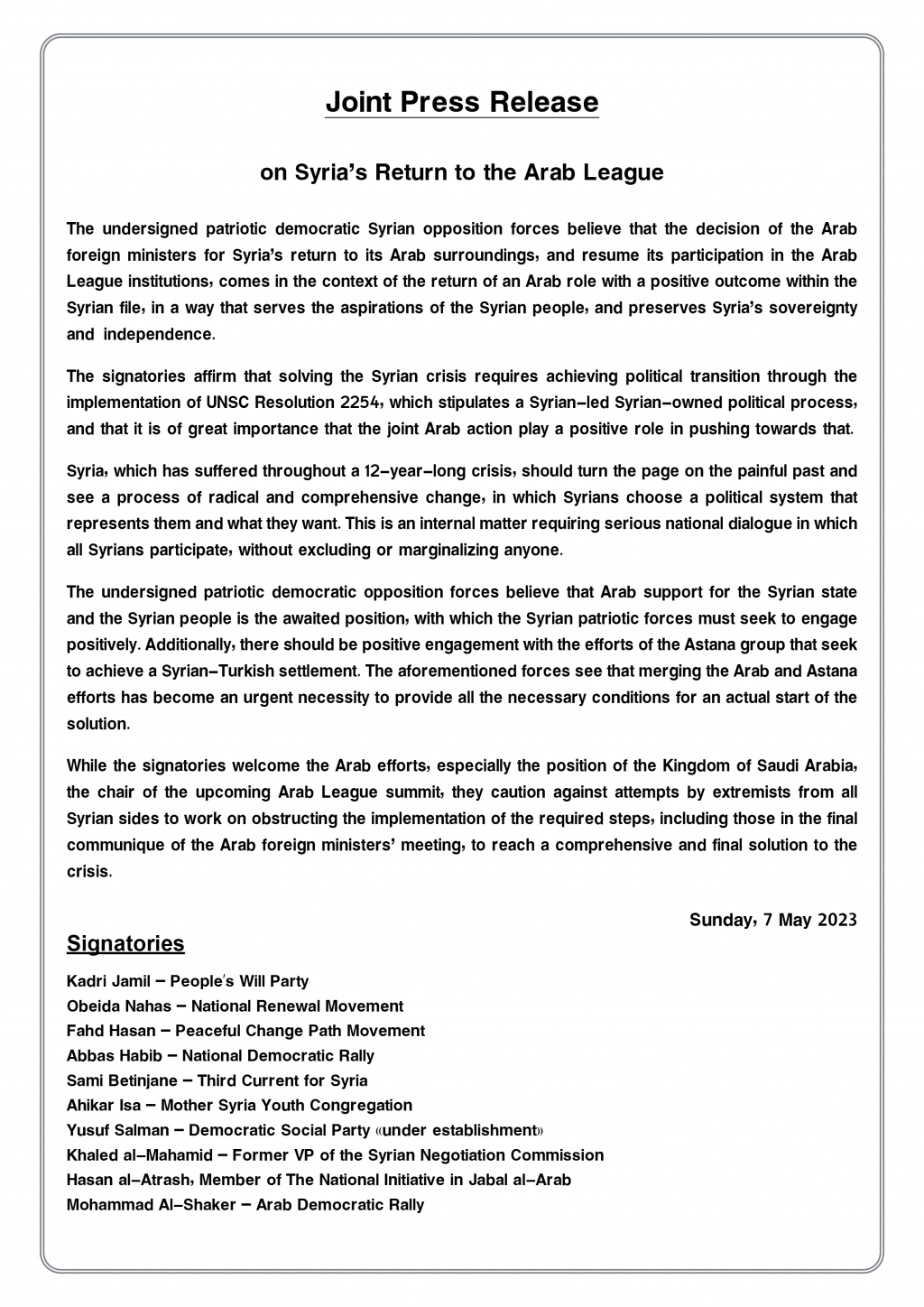 Last modified on Sunday, 07 May 2023 20:39