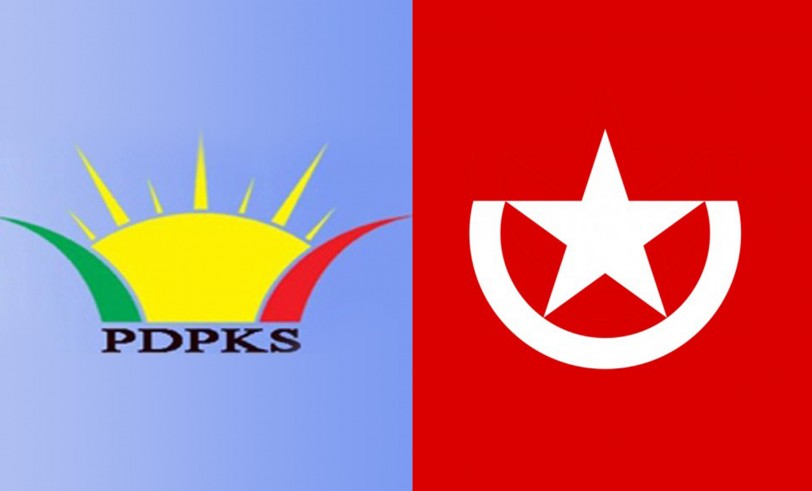 kassioun
PWP meets with PDPKS
A friendly meeting was held, Tuesday, May 31, 2016, in Qamishly, to the North of Syria, between a delegation of the People's Will Party and the leadership of the Kurdish Progressive Democratic Party of Syria (PDPKS), headed by Secretary General, Abdul Hamid Haj Darwish, on the occasion of his return to the Syrian homeland.
The PWP delegation, headed by comrade Hamdallah Ibrahim, member of PWP Presidium , Secretary of the PWP Jazeera Organization, was received by a great number of PDPKS Polit-bureau and Central Committee members, headed by Mr.Haj Darwish.
The two sides exchanged views over the Syrian developments, the negative reflections on the Syrian crisis of the positions taken by the Syrian opposition forces that are linked outside, the continuing Syrian bloodshed ,and  the exacerbation  of the humanitarian, social and economic catastrophe endured by the Syrian people. The discussed ways to save the country and agreed that the political solution is the only way-out.
The two parties underlined as well the necessity for continuing with holding such meetings, and the formation of a front comprising all those keen to Syria's unity, and to saving the Syrian people as a whole, including the Kurdish people.
Praising the role played by Syrian forces that kept clean hands away from U.S $ influence, they hailed the positions of Russia that support the Syrian people and call for including the representatives of the Syrian Kurds within the Syrian national opposition delegation to Geneva, being the true representative of the Syrian people.