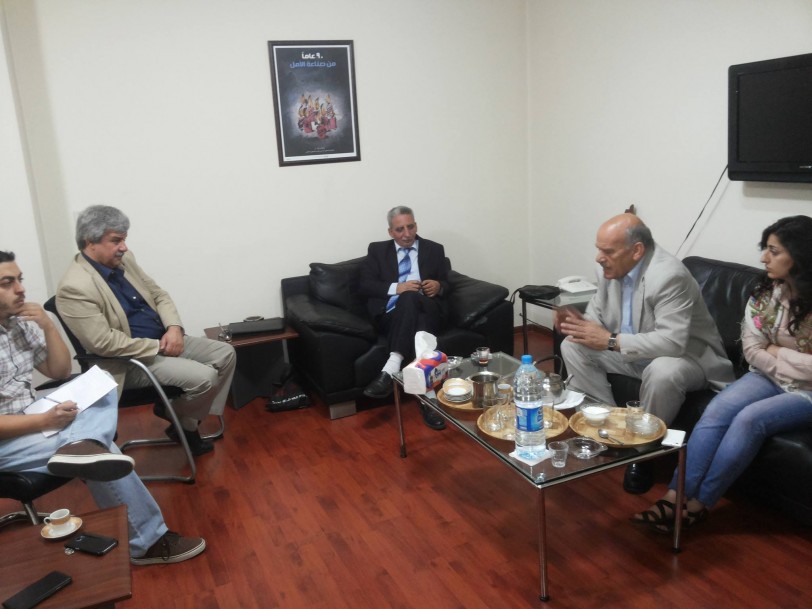 kassioun
PWP Delegation makes a Congratulation Visit to LCP Leadership
 A delegation of the Leadership of the People's Will Party has returned this evening from Beirut, finishing a one-day visit to the leadership of the Lebanese Communist Party.
The delegation, on behalf of the Syrian Communists, introduced solidarity greetings  to their Lebanese counterparts on the successful conclusion of their 11th Conference, the election of a new leadership and on the good results they, along with their friends and allies, are achieving in the ongoing municipality elections in Lebanon,  foretelling a new momentum in LCP restoration of its functional role in the Lebanese political life, on national and class basis, away from the politically sectarian, quota based, logic, dominant in Lebanon. 
The PWP Leadership delegation included Hamza Munther- member of the Presidium, Alaa Arafat- Party Secretary, Ishtar Mahmoud- member of the  Central Council, and Mohanad Dlekan- Party Secretary. They met at LCP H.Q. with General Secretary Hanna Gharib, and members of the LCP Polit-bureau, Hasan Khalil and Omar Deeb- Responsible for Foreign Relations.
In their meeting, the two sides exchanged views over the local, regional and international developments, particularly the course and prospects of the political solution of the Syrian crisis, besides the attempts by the hardliners of the different sides, inside and outside Syria, to hinder or delay it, and to escalate the situation on ground, in service of their, supposedly separated,  narrow interests, despite the dangerous impacts of this on the peoples of Syria, Lebanon, the region and the world.
Stress was laid during the meeting that the change- promising political solution in Syria is paving its way ahead, against the different odds, with all the positive implications of this process, eventually, that would not be limited to Syria, alone, based in essence on the fact that the world new balance of forces, where Washington and allies, including the Zionist entity, has reached a point of no-return, due to the entire exacerbation of the capitalist crisis, in its imperialist strongholds.
The meeting reviewed, as well, the necessity and ways for further developing the comradely relations between the two parties, on all arenas including media cooperation, for the benefit of their common causes, in service of their peoples, respectively.